Valerna is a continent where magic reigns and populated by powerful nations, great heroes and …. dragons!
These forces are constantly fighting each other to dominate a godless land.
Each nation and force in play has different ideals and fights using different warfare tactics, weapons and magic.
The winner will be not only the strongest, but also those who have managed to transform their ideals into power and their heroes into deadly weapons.
And the greatest of the heroes are the dragonbonded (literally those who are related to dragons), commanders of deadly armies who live their lives inextricably linked to powerful dragons!
Dragonbond: Battles of Valerna is a new Kickstarter project that mixes two aspects that interest us closely.
Not just a board game but also models to print comfortably at home with your 3D printer.
There will be no physical rewards at the end of the campaign and all products will be released in digital format only. Big and small models, rules and everything else will be delivered to lenders (backers) directly in their inbox with a simple link.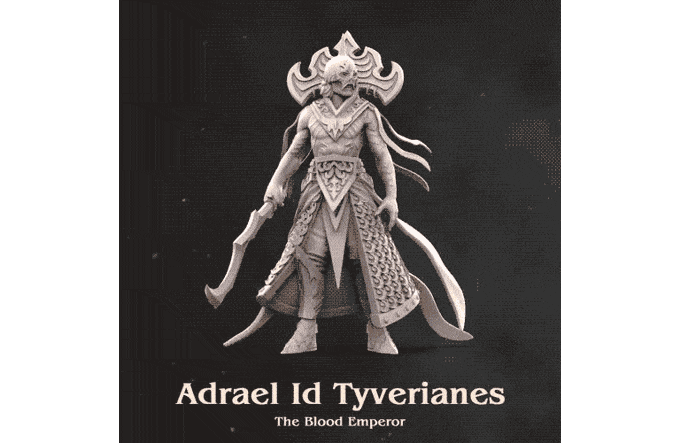 The world of home 3D printing is increasingly catching on globally. Even today, however, it is a bit difficult and the approach to this world still requires great commitment and passion. Forget the plug'n'play, the resin and FDM printer, the two most used technologies for home modeling, it needs to be continuously configured and checked sometimes even between one print and another.
Despite the non-ease of use, the increasingly competitive prices now allow for a cost of less than 500 euros to take printer models that up to a couple of years ago cost more than double and therefore the community of makers is slowly expanding. !
Dragonbond: Battles of Valerna is not the first and certainly won't be the last Kickstarter that will try to propose a board game to be printed and produced all by yourself at home, thus eliminating shipping costs and production costs.
But don't think it's free! Behind this project as well as others of the genre is the work of digital artists who churn out pieces of the best board game, worthy of CMON, Ludus Magnus Studio or Awaken Realms (just to name some of the publishing houses with the most beautiful models) .
Furthermore, the rules of the game, as well as its setting, require hours and hours of work and playtesting. So yes, even a board game without a board, miniatures and counters pays!
But what kind of game is Dragonbond: Battles of Valerna?
Each player will have to choose his army and choose which pieces to deploy by combining the skills of the commanders with those of the dragons and his troops. Once this is done, the troops are deployed on the game table and face off in a skirmish combat where not only the strategy and tactics derived from the pieces chosen for their army count but also the roll of the dice. However, there will also be a check on the game's risk, in fact it will be possible to improve (or worsen) your dice during the game.
Victory can come in various ways, by completely annihilating the opposing troops or by satisfying victory conditions, such as controlling certain portions of the map or other.
There are two full armies in this Kickstarter: Allaria and Tyveria.
Each army, excluding stretch goals, will contain:
x1 General
x1 Dragon
x1 unit with Capitan e Troop (two elements)
x2 units with Capitan e Troop (three elements)
x1 units with Capitan e Troop (five elements)
x1 units with Capitan e Troop (seven elements)
x3 Dragonbond (Spin dial, ruler and custom dice)
In the campaign there are several paid add-ons such as the terrain pack, which allows you to add (always after printing them yourself) various landscape elements to the game table, and two bundles of dragons, creatures of impossible dimensions that can change a lot the game depending on which one you then choose to use.
Between the two components, board game and 3D printing / modeling, it is clear that the latter is the master. The board game itself, with its rules and skirmish combat, isn't a big news or something incredibly playable. But this could be the beginning of a universe full of armies and dragons and legendary creatures of which Dragonbond: Battles of Valerna could be just the first piece. Furthermore, in our opinion, it is right to trust those who want to experiment and the GdT / 3D mix is definitely something new and that stands out!
Kickstarter: https://www.kickstarter.com/projects/lair3d/dragonbond-bov3d-wave1