I was there quietly to chew my lunch when I noticed a bush next to mine where the grass looks even tastier. Already beginning to foretaste when I notice that another diplodocus has noticed and wants to eat it. Im' sorry my long-necked friend, that green and lush grass will be mine!
Jurassic Snack is a board game in which two players will compete with jaws and races on the board to accumulate points, possibly avoiding to end up eaten by cruel tyrannosaurs.
Everyone will move their colored dinosaurs on the game board to try to eat all the grass that our prehistoric stomachs can contain, better if under the nose of rival.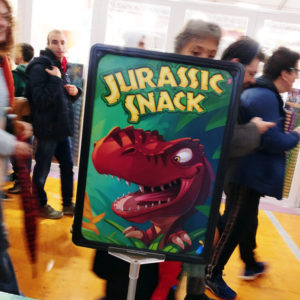 The game went sold out to Lucca Comics & Games easily managing to involve younger players and their parents. Colored dinosaurs, fast learning speed, good playability, games that last a few minutes and the recommended age very low (just 7 years) have convinced almost all the families who have had the opportunity to try the game at the tables of PlayaGame EDIZIONI.
The game is very fun and although it becomes really competitive from 7 years upwards, that is when the player, even if very young, is able to elaborate complete strategies in an autonomous way, it is enjoyable even at a lower age. Our little editor Federico tried it and from the height of his 5 years we can tell you that it was a lot of fun, so much to try and try again several times, up to elect this game in his personal top 3 of his first Lucca Comics & Games!
The games we have been able to do have always been different from each other because each player's choices change the playing field each time and therefore also the moves and subsequent choices of his opponent. Then there are the T-Rex to trouble the life of these placid but voracious herbivores! Every so often in fact, behind a bush hides a carnivore ready to devour our rival's dinosaurs (or our ones) and to end the game in advance!
A really fun game of which we will give you a complete video review by Gaia as soon as possible!
PlayaGame EDIZIONI web site (italian): http://www.playagameedizioni.it/il-nostro-catalogo-giochi/jurassic-snack/
PlayaGame EDIZIONI Facebook page: https://www.facebook.com/playagame.it/