Lucca Comics and Games this year will see Lone Wolf walking through its streets.
We are not referring to a cosplayer of the famous literary character created by Joe Dever, but to a new and incredible role-playing game that uses augmented reality to immerse yourself in the Magnamund world.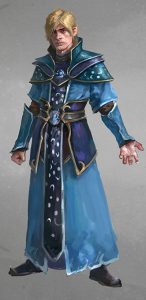 The father of Lupo Solitario disappeared in 2016, but his son Ben Dever together with Vincent Lazzari is continuing his work and the release of Lone Wolf AR coincides with the first posthumous publication of the book n.30 "Death in the Abyss" by Raven Distribution at Lucca Comics & Games 2018.
The goal of Lone Wolf AR  is to thrill fans for its faithful re-presentation of the worlds imagined in books, attracting new fans at the same time, to bring a whole new generation closer to the Lone Wolf franchise, without forgetting the publication of the last book "Death in the Abyss". The city of Lucca seems perfect, with its alleys and medieval walls, which draws from the past in terms of history, using innovative tools techniques such as augmented reality.
With the application we will turn into Ramas and will patrol the streets of Lucca, dodging cosplayers and comics fans. Taking advantage of the geolocation technology already seen in Pokemon Go we can defeat the Lords of Darkness and their allies. If we succeed in our task we will have access to access to exclusive content of the story.